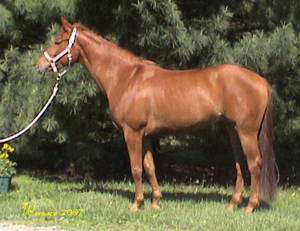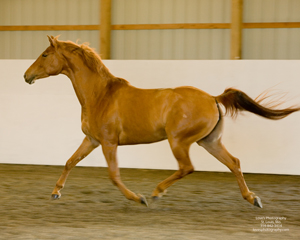 EM Wersace is sired by Weltmeyer, the horse often referred to as the Stallion of the Century for the Hanoverian breed, and his quality shines through in our beautiful mare. A photo of Wersace competing at the prestigious Kentucky Horse Park young horse championship was featured on the cover of the AHS Fall 2008 magazine. Our lovely mare is elegant and refined, yet she possesses incredible impulsion in all her gaits.

Wersace was high score at the June 2008 SLADS show with an 8.1 for the FEI 5 Year Old test. She qualified for the Region 2 championship at second level, where she was champion in her class. She was also champion at her Hanoverian inspection and obtained elite mare status in 2008.

Other successes include second level champion for her debut ride at the 2008 Meadowake Equestrian Centre in Kentucky. That same summer, at the SLADS show in St Louis, she received 81% at the qualifier for the Young Horse Championship.

In the fall of 2008, she competed at the USEF/Markel Young Horse Championships held at the Kentucky Horse Park. This event is by invitation only, and Wersace received an impressive 72% score.

One week later, with Angela Hecker-Jackson riding, she was the Region 2 Second Level Champion Open at Paxton Farms.

Wersace is not only successful in the ring; she is also extremely fertile and has already transferred embryos to recipient mares, resulting in two foals on the ground in 2008, and one more in 2009. Her 2008 foals, Fergee and Ferrarree, were sired by Florestan. Her 2009 filly, High Tea, was sired by Harvard. We're certain that the combination of Harvard's perfect 10 temperament and Wersace's impulsion have combined to make High Tea into yet another amazing dressage star.

Barbara has begun to ride Wersace and has found her incrediably rideable despite the power as Barbara continues her quest for a USDF Bronze medal.

If you would like to have your own foal from this wonderful mare and the stallion of your choice, Wersace's proven track record in embryo transfer could be just what you're looking for.

Click here to view video.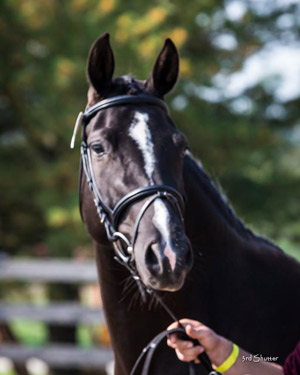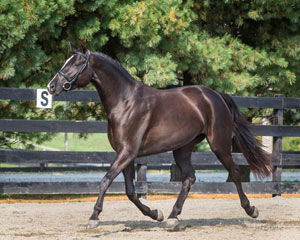 Tia, as she is called, is a stunning filly with long legs and a powerful hind end. Achieved Elite Mare Status in 2016 and will be a proud contributor to our breeding program if she does not sell. Her conformation is correct and with Harvard as her sire, you know the great temperament we see on this young horse will only solidify with age. She loves people and always runs to greet me when I walk into her pasture.